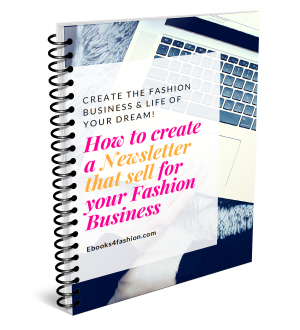 Want to use email marketing, but you don't know how to start?
This ebook is for you. Learn more how to create your newsletter that sell in just few minutes.
What you will learn in this Ebook:
* How to write irresistible subject line.
* How to write attractive content.
* How to create beautiful designs.
* How NOT to be too pushy or salesy.
* How to create different marketing messages for your newsletter.
What's Included?
EBOOK 1: How to Create Newsletter that Sell for Fashion Business.
EBOOK 2: How to Turn your Fans and Followers into Customers for Fashion Business.
EBOOK 3: How to Create Engaging Facebook Posts for your Facebook Page for Fashion Business.
+ EXCLUSIVE BONUS: Free Live Workshop with Maristella.
Join the Exclusive Live Workshop every Month, only for Students, where Maristella will answer all the questions you might have about your ebook or your fashion business!
This Ultimate Special Package contains 5 easy strategies + BONUS to use to create Newsletter that sell for your Fashion Business, whether you are a Fashion Product or a Service based Business.